Kinda dull cloudwise, but the birds are fantastic at Nisqually NWR right now.
I spent this glorious May morning at Nisqually National Wildlife Refuge. With the help of dozens of fellow birders (ace to amateur), several mega-spotting scopes, various field guides, and lots of pointing, I caught sight and sound of all sorts of birds I never would have seen or been able to identify on my own.
For example: one guide pointed into the sky behind us and told us to "put your bins on the moon." We focussed our binoculars on the waning gibbous moon, still high in the sky, and saw several dark twinkling shapes flying past the pale, white face of the moon. Vaux's swifts. Stunning. Fleeting. Unphotographable.
As it turns out, none of the birds I saw over the next few hours were interested in having their picture taken. Most birds were too fast (Vaux's swift), too twitchy (rufous hummingbird, yellow warblers), too distant (juvenile bald eagle, green winged teal, cinnamon teal, cliff swallows, pie-billed grebe), or too camouflaged (Rail, lesser yellow legs, greater yellow legs), too fascinating to watch (tree swallows) or just plain invisible (sora). Only a camera with a lens the size of a cannon was a match for some of these species.
So I focused on the greening landscape and the bounty of bright wings and songs and marveled at the unremarkable looking birds I was told were en route to the Arctic tundra....from South America.
No one noticed or even mentioned the Canada Geese-the very conspicuous, very common year-round residents at the refuge. They are really too large and too abundant to be "special" or worth going out of your way to photograph as they sit (pose?) at the edge of the refuge walking trails. The Canada Geese know they don't rate. At least one goose did today, the one looking wistfully out toward all the birders with their attention and binoculars focused elsewhere.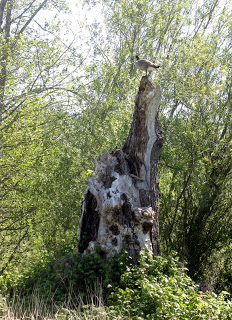 What do I have to do to get noticed around here?
for more information on Nisqually NWR.
for information on The Black Hills Audubon Society, which conducts weekly bird walks at the refuge.