Just a glimpse of the 30,000 shorebirds moving through the refuge now.
Grays Harbor possesses a subtle kind of beauty, the kind that requires an appreciation for the dazzling range of gray in the landscape. I have always loved remote, edge-of-the-continent places where big, honkin' tulips and other showy flowers can't get a foothold or survive the battering wind, rain, and salt spray.

A view from the boardwarlked Sandpiper Trail (my first "stiched" panorama!)
Just west of Hoquiam, Washington, you'll find such a less-is-more place at Grays Harbor National Wildlife Refuge. Unless you go now to witness the spectacular show of shorebirds-hundreds of thousands of them --moving onto the estuary's mudflats to refuel as they migrate some 15,000 miles from as far south as Argentina to their breeding grounds in the Arctic. The mudflats offer a bounty of food--clams, worms, grubs, shrimp-like creatures all burrowed down in the mud--many not far enough to evade the probing bills of the hungry birds.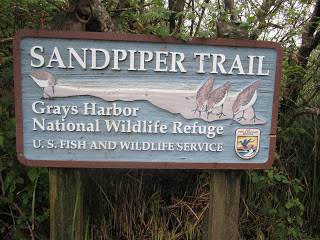 I had visited the refuge in the past, but, being the Accidental Naturalist, didn't plan around the season or the tides and, while I enjoyed the stroll along the boardwalked Sandpiper Trail, was always a wee bit disappointed that I hadn't seen "anything good." This year, thanks to my Intentional Naturalist friends who told me about the Shorebird Festival, I showed up at exactly the right time--in the middle of high tide last Saturday--to see some 30,000 birds, mostly Western Sandipers, feeding along the shoreline. My camera and binoculars are underpowered for capturing individual birds, but there were several refuge volunteers stationed along the boardwalk with spotting scopes focussed on the flocks; the will be happy to point out the differences between the Western Sandpipers, Dunlins, Sanderlings, Semipalmated Plovers, and two dozen other species migrating through the refuge.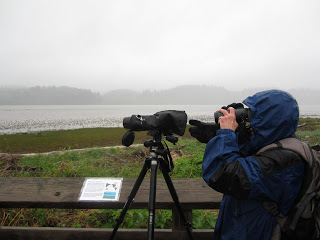 Weatherproof and bird-savvy refuge volunteers are stationed along the trail.
Most enjoyable for me was watching the different feeding styles of the different species and seeing waves of birds fly off the mudflats as peregrine falcons swept in to hunt.
Click here for information on the Grays Harbor NWR, best shorebird viewing times, information on the birds, and directions to the refuge. Though the festival was last week, the birds will be migrating for another few weeks.