I got a head start on celebrating Monday's holiday last night at a showing of this feature-length documentary on soil. Soil, not dirt. Soil is that wondrous nourishment created on Earth by the combination of minerals from hard rock and humus. Humus, not hummus. Humus is a mix of decomposing organic material such as fallen leaves, animal manure, dead plants and animals, and kitchen scraps (but not Twinkies, which are inert).
Yes, it's true. The Accidental Naturalist watched 103 minutes of film on soil, applauded at the end, and stayed afterward for the Q&A with the film's creator, Deborah Koons Garcia.
The challenge of making such a film was, according to Garcia, using a medium that is all about light and action (film) on a subject that is dark and inert (soil). The camera man laughed, Garcia said, when--after he set up his equipment for the first shot--Garcia called "action!"
In fact, Garcia did a marvelous and creative job bringing the soil to life thanks to skilled film work, beautiful animated water color images, plenty of interviews with knowledgeable and happy soil scientists and farmers, full-grown men digging themselves into holes, plenty of hands holding dirt like it was gold, time-lapse footage of tiny root hairs, and a cast of thousands of earthworms (pun intended), dung beetles, and fungii and bacteria that squirmed their way across the microscope slide and onto the big screen.
As you can probably tell from the elegant title of the film--Symphony of the Soil (and not Dirge of the Dirt)--this documentary was meant to be beautiful and uplifting and give audiences a sense of how complex soil really is. By better appreciating the life-giving soil, we are more apt to accept Garcia's message that we need to start taking better care of it. Earth's soils are becoming more and more depleted after misuse in agriculture--primarily from the so-called Green Revolution, which promoted the use of irrigation, use of pesticides, and the synthetic nitrogen fertilizer to increase crop productivity around the world. While productivity increased in the short term, the healthy of the soil suffered as pesticides, fertilizers, and other chemicals were wantonly applied. Living soil became mere dirt with less and less of its natural capacity to transfer life into crops.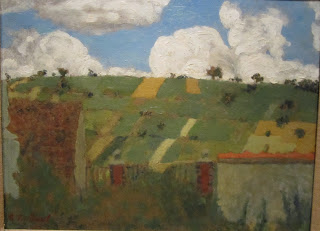 Enter the time-honored methods of crop rotation, tilling in of nitrogen-fixing cover crops, industrial-scale composting of a city's worth of kitchen scraps and yard waste. It was a pleasure to see so many sunlit fields of lush green crops grown the olde-fashioned way. One farmer (I think it was the vineyardist) was beaming with pride as he held up his scooped hands full of dark-brown soil. Look at how rich this is, he said, it's like chocolate cake.
Indeed, it did look good enough to eat. That's a high standard to set for the world's farmland--but the Symphony of the Soil presents convincing evidence that this is an attainable goal. And one we need to strive for to ensure the future of food and of life on planet Earth.
TheSymphony of the Soil was part of the Environmental Film Festival presented by the Olympia Film Society. DVDs of this film (and other films by Garcia) can be purchased here
.